Product description
Shipping Information
Return & Exchange
Large-capacity, high-quality foldable storage bags can help you pack your luggage more efficiently during your trip, and you can take them with you wherever you go with only a small amount of space.
✅Material: Water-resistant Oxford material of excellent quality. The luggage bags are lightweight, easy to pack, and extremely durable.
✅Bags for luggage can hold so many things: It can be used as a gym bag, a carry-on bag, a travel/day bag, a foldable shopping bag, or a sports bag; it can be used for anything.
✅Convenience:
When you're done with it, simply fold it neatly back into the small bag that comes with it. When the bag is in use, it also serves as a small side pocket.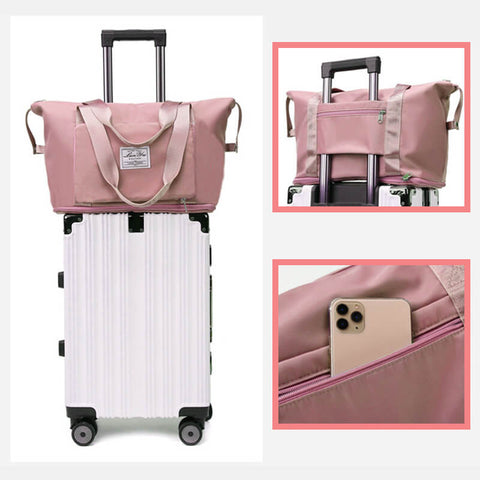 ✅Durable & waterproof:
Solid straps support more than 20 kg (45 pounds), and smooth metal zippers eliminate the risk of ripping or breaking during travel.
✅Easy to fold and unfold:
With a pocket on the outside that allows the duffel to be slid over a suitcase's handle.
✅Lightweight and compact: It takes up a small amount of space when stored and can be taken with you.
WE OFFER FREE WORLDWIDE SHIPPING FOR ORDERS OVER $65
US and Canada: 6 - 10 Business Days After Processing

Australia and New Zealand: 7 - 12 Business Days After Processing

Europe: 7 - 14 Business Days After Processing

Latin America: 10 - 25 Business Days After Processing

Asia: 10 - 15 Business Days After Processing

Other countries: 15 - 30 Business Days After Processing
We stand by our 15-day-money-back guarantee & 90 days product warranty, which ensures a simple return, refund, or replacement process for our valued clients. We remove all danger from the purchase process by providing an unrivalled satisfaction guarantee. We'll do everything we can to look after you!
Before placing an order, we recommend that our customers consult our sizing chart. Please see our size chart by clicking here: SIZE CHART
If a customer receives a pair of shoes that does not fit, please contact support@roxten.com and we will assist you in getting your shoes exchanged!